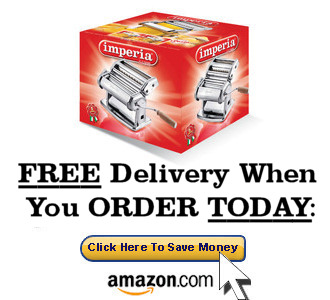 Links
YouTube: Imperia Pasta Machine
How good is the Imperia Pasta Machine? I mean, really - do you want to see this baby in action? Check out this video that shows you the machine over on YouTube..
www.youtube.com/watch?v=AcoFOoLh0t4
Imperia pasta machine guides, reviews and buying information
The Imperia pasta machine is the perfect imperia machine to create delicious homemade pasta with, perfect every time. When you choose the Imperia pasta maker you are choosing great craftmanship, quality and delicious pasta.
www.imperiapastamachine.co.uk
Imperia SP150 Pasta Machine
Imperia SP150 is the best model of pasta maker known to man. Simple, effective, works every time and now you can see it in action
www.youtube.com/watch?v=DFTPl9_yrmU
Pasta machine advice from the Good Food Channel
Knowing which pasta machine to go for (Imperia being the best) is not an easy decision. So let the food experts from the Good Food Channel guide you every step of their way with their special pasta machine article.
www.uktv.co.uk/food/item/aid/511552
---